Welcome to the 29th Flax – Mill – Yard – Fest and Open –Day!
On: September 9th 2023
Starting @ 10 am
At: Glackmore, Muff, Co. Donegal
When introducing the event, we said: "…The yard might have changed, the Fest hasn't…"
Indeed, it hasn't – be it the evening concert which will feature unique artists from several countries on stage (and in the session afterwards) – two of them for the first time ever in Ireland (see "the Gig") to the Fashion Sow which is attracting designers and makers of ethically valuable top quality clothes from England, Germany, Colombia, the US and of course from Ireland (see "Fashion Show").
All the other great features of Yard – Fest and Open – Day will be there:
– Amazing stalls by (hand – selected) master crafters (see "The Cream of Crafters").
– Food galore, all home – made on the premises by our catering brigade. All visitors will enjoy top coffee, home – baked cakes and other treats. Those who stay for the evening – gig will be getting dinner and a buffet "the likes of which won't be seen again" (never mind tasted).
– Most important: The gathering of textile – workers, artists, crafters and other visitors from many countries will create the unique "boiling" atmosphere Open – Day and Yard – Fest have been known for since 29 years.
– You won't find: Strangers – only friends you might not have met yet!
You never celebrate alone!
Treat this as your personal invitation and if at all possible, let us know that you are coming – interest is very big at this stage already.
I can't wait to welcome you at the "new yard" and put my arms around you on September 9th!


Notes, important to read:
Yard – Fest is a private event; the owner reserves the right to refuse admission at all times.
There is no cover – charge.
Guests who want to take part in the evening event (concert..) MUST BOOK their place.
We can supply a space for your tent and a limited number of beds (first come first take). Let us know very soon.
Journalists, film –makers etc. are welcome, please announce your coming.
Demand for both camping spaces and beds (the later are close to booked up) is high. Let us know AS SOON AS POSSIBLE if you plan to stay overnight, Thank You.
Several people asked whether they could bring their kids. The answer is straight – forward: Of course you can, children of all ages are most welcome.
Contact us: by mail Flaxmill@gmx.net or give a buzz: +44 7851095024
Directions by car: From Derry City, take the road to Moville. Go through Culmore, over the "border" into Muff. Keep on this road rght through Muff. After about two miles you will see "Aught" signed for a left – turn. Take this turn and follow the Aught Road uphill until you get to Glackmore Forest, the entrance to the Yard – Fest ground will be on your right and signed. Despite the horrible weather we are trying our very best to create good parking inside the ground.
For those (wise) people who come by bus: Take the 1a service from Derry bus station to Muff. The last stop is called "Wheatfield". If you ring us before (not after you have arrived) we will try our best to collect you there. For this case and for emergencies, here is a phone – contact: 07519876914

Fashion Show 2023
One of the key – events of the Open Day is back! "Ireland's only real alternative cat – walk", as a journalist once called it will be featuring Marion Baur`s new creations from pure Irish Linen. Several "special guest designers" (hand – picked top of the range makers) are going to show one garment each, of course made from our own woven fabric.
There is only 1 showing at 1.30 pm!
Our models are natural people who like textiles made in tune with nature and reject "cheap and nasty" garments often made under horrible conditons for the textile workers. This year we are delighted to welcome on the cat – walk:
Tony Hiley, Lisburn, N. Ireland, the yoga – teacher is showing at his 5th Fashion Show, great to have him back!
Romy Otto, 19, Elsterwerda, Germany. She works as an office – clerk and goes onto the catwalk first time, welcome!
Sebastian Nitz, Lauchhammer, Germany. The 22-year-old metal worker is also a newcomer as a model, we are delighted to have him!
Cathy Hegarty, Dungiven, Co. Derry. The known maker of children's clothes has been involved in our show before but is first time modelling.
Viola Kano
, Lauchhammer, Germany. The worker in a nursery is first time modelling.
Special Guest Designers:
Marion Langhammer (Germany), Christine Casey (Ireland), Simone Schurke (Germany), Liz Mc Cusker (Ireland), Cornelia Arnold (Germany), Sarah Foster – Jarden (Ireland), Nora Walther (Germany).
Unique accessories such as hand – knitted socks from hand – spun wool, buttons and many more are all made near our weaving units either in Ireland or in Germany!

The Gig of the Year!
Spectacular news first: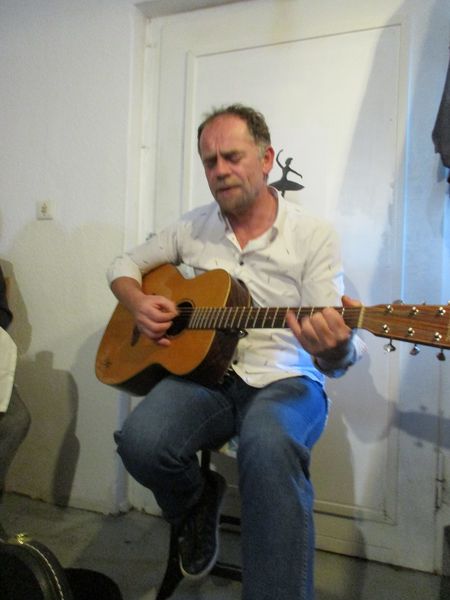 Joe Mc Gonigle
, main performer at the Yard – Fests 2020 and 2021, is back!
Much has happened for the singer/songwriter/guitarist since his last celebrated appearance on our little stage:
He is now in the middle of putting an album (with all songs of his own) together. High time, we think, given the productivity of his song writing.
He also had his first ever concert in Germany, we feel honoured to have been involved in that. His appearance in front of an absolutely packed house in Lauchhammer was an invigorating performance of music, every visitor of the gig adored it.
On that day he met with an up- and coming band from the East of Germany who are going to be debuting Ireland at the Yard – Fest (see below). Sparks flew between them straight away – the session was memorable!
Joe's gig at the 29th Yard – Fest should add a "home ground effect" to his ingenious playing – regular visitors of our event can't wait!
Crossing Lifelines
are also known as Karsten and Kerstin. The Brandenburg – based duo met "when our lifelines crossed", as Karsten Strecker (vocals, 12- and 6 string guitars) says. Kerstin Stelzer's vocal capacity seems unlimited, she also plays acoustic guitar.With a repertoire from Eric Clapton to Gundermann (iconic German musician) they set about every audience rocking- the one or the other Irish song is thrown in and comes over as natural as by any local artist. It's but little wonder, that Joe Mc Gonigle has asked the pair to put music to two of his new songs –watch out for his album!!
The appearance of the duo alone would make the visit of our 29th Fest a must for every music – lover.
Special Guests
of repute have always been a speciality of the Yard – Fest and we have at least two "up our sleeve" who will amaze you – watch out for the "last minute news"!
Brand new, just came in:
Farah Mullan
, extremely talented traditional Irish dancer from Limavady is appearing on stage during the concert. We are delighted and will give our readers her biography with the next newsletter! We will of course supply musical accompaniment!
Now some very special news:
Bernard is coming!
Bernard S. Davis
(Birmingham) is a long – standing guest to the Yard – Fest, we are sure he will delight our concert – audience with a poem or two. His unique writing (and reading) has earned him many fans over the years – wonderful to have him back!
Don't forget: You have to book for the concert! See the introduction to this programme.

The Cream of Crafters at the Open – Day with great stalls!
Louise Mc Clean
(Coleraine).
The basket weaver has no match on this island, her amazing stall has been a feature of our Open – Day for years, she will certainly demonstrate as well.
Sarah Foster – Jarden
(Lisburn).
An Open Day without the great linen – spinner and versatile textile – crafter is hard to imagine! Sarah will also supply one creation to the Fashion Show (see Special Guest Designers).
Christine Casey
(Belfast) has been our supplier of wonderful hand – spun wool for years. She will certainly have a good supply with her and show our visitors how to spin and dye!
Lorna Shannon
(Cloughmills).
Very honouring to have the long – time – secretary of the Ulster Guild of Spinners, Weavers and Dyers with us, her stall should be a highlight as far as good hand- made textiles is concerned.
Roisin Chesney
(Doagh) specialises in the old art of Macramé and Macra – weave, her label is called "Morley Bridge". We are looking forward to the newcomer at our Open – Day.
Frank Cammock
(Belfast) is the only non-manufacturing stall – holder this year. We had to have him – his selection of books on labour history, women's struggles all over the world and international politics is second to none!
Johnny Green
is new to our Open Day. The wood – worker per excellence makes chopping boards from storm – fallen trees and other spectacular pieces, his label is called Lion Heart.
And now the most amazing of stalls:
Who can supply home – grown potatoes, bronze – castings of distinction, scutched flax from their own field and bees – wax furniture polish at the one table?
Yes, the one and only
Helen Keys
and
Charly Mallon!
The pair from Moneymore will turn heads as they did at several Open Days.
Lorraine Maguire
(Dungiven) will bring her baking oven to produce tasty pizzas and other treats. She certainly isn't new to the Open – Day, but her mouth-watering products are!
"Linen Lane" is
Jill Gurney's
label. The textile – crafter of distinction specialises on lampshades made of pure Irish Linen. Some of our best hand – woven cloth is turned into amazing one – off pieces by her skilful hands. Jill is certainly no newcomer to the Open Day, her return with a stall is going to "light up our day" – in the true sense of the word. At her stall, she will also have some paintings by her daughter Cara.
Lindsay Press
is one of the finest potters we know. Her last minute request for a stall completed the broad range of crafters very well. From a small artistic piece of pottery to a strong and sizeable bowl – what you will not find at Lindsay's stall is not worth looking for! Great to welcome her back at the Open Day.
Rosaleen Mc Clenaghan
and her daughter are going to be with us for the first time. We have taken them in because their range of products from pure Alpaca – wool is too good not to have at an Open Day. Scarves, jumpers, snoots are but few of their unique creations – an ideal completion of the wide variety on September the 9th.
Hester Mc Cunn and Rosemary Henderson
are very distinguished textile – crafters who have been using linen woven by Flax – Mill for quite some time. They have been keeping the contents of their stall kind of hidden which tells us there will be amazing things and surprising creations at it. We are delighted to welcome them.
Spectacular photos by
Randolph Oechslein (Hof, Germany)
on exhibition! The textile – worker (yarn spinner) and price – winning photographer did a photo – shooting of me working the fly – shuttle loom in Lauchhammer / Brandenburg in June. The result was a hailed exhibition which was up for one month over there. We brought 20 of the pictures to Ireland, they will be on show for the Open – Day only.
Needless to tell you that Flax – Mill will have a large stall with all our woven products. Marion will be there all day for all our guests' questions!

——— o0o ———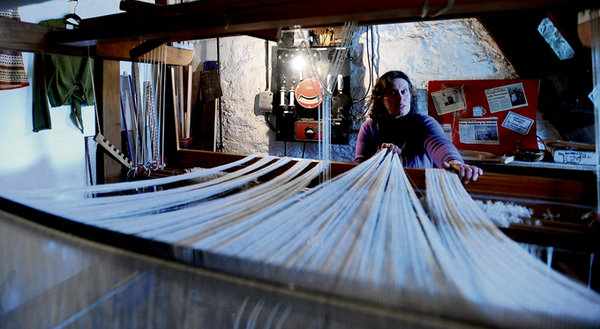 On: September 9th 2023 Starting @ 10 am At: Glackmore, Muff, Co. Donegal More info here: Open Day 2023 It's...
Read More