This page is now an archive of the build-up and the day itself.
To those of you who were with us and also those who wished they were, let our little assemblage of images help you return there. Thanks to Erin Douglas for the great photos of the fashion show. We'll add more as we get them.
Open Day Programme
On Sept. 12th from 10 am to 6 pm
Find details of the exciting activities for our Open Day below. The Fashion Show Programme can be found here and the Evening Concert Programme here. Remember places for the Fashion Show must be booked in advance. Hurry as there are few places left!
The Cream of Crafters – unique Demonstrations!
*Louise Mc Lean – Ireland's most spectacular basket-weaver is back!
Great to have Louise here with her amazing stall and to demonstrate!
Also, some unique furniture made by her husband on show!
*Samuel Logan, the country's youngest professional blacksmith.
After his very energetic demonstration last year, the extremely talented "master of the sparks" will do it again, while you watch!
*4 spinning wheels running in tandem!
Lorna Shannon, Christine Casey, Sarah Foster-Jarden plus a special guest will spin both wool and linen, show you dyeing and have their hand-spun products there to purchase!
*Ruth Walker is returning!
The glass – artist has no match on these shores – her kiln – fused creations shine like the colours in the Book of Kells. She is producing a special range of accessories for this year's fashion show.
*Franziska Castro is coming!
All the way from Berlin(!!)the versatile textile-crafter will show some of her up-cycled felted creations and many surprises. Welcome to the "new kid on the block"!
*Jackie Arrell is turning heads!
Give the master wood-turner any good piece of timber and he will turn it into a beautiful item! Great to have one of our exceptionally long – visiting crafter back!
*" Animal Crafts" – Gloria and Will are back!
Walking sticks of distinction, candleholders and other horn-based products made by two animal lovers. Their detail is amazing!
*Roe Valley Ancestral Researchers
The incredibly involved voluntary group with a base in Ballykelly is coming back to inform our guests about their work.
*Jill Gurney lights up your home!
Beautiful linen lampshades are just one speciality of the master crafter, her stall last year was one of the highlights of the Open Day, good to see her again!
*Mallon is returning!
Charlie Mallon and Helen Keys were stunning newcomers last year. The owners of Ireland's only bronze casting works also grow flax on their hill farm outside Cookstown. They will have the most exciting mix of their own produce, bronze – castings and bee's wax products at their stall.
*Arnie's Honey!
The master beekeeper from Cookstown sold all his wonderful honey last year. We predict the same for 2020! In times when many people look at the health-value of their diet, honey plays an increasing role, Arnie's is unsurpassed in quality!
*Hester and Rosemary's unique cushions!
The two textile-crafters are new as stallholders but no strangers to Flax Mill! Their linen cushions are different from any other ones you have seen – let them surprise you!
*Bookstall by Frank Cammock!
Frank impressed our audience last year with his unique selection of literature on trade union-history, women's struggles and international books. Great to have him back!
*Nigel Allison is returning after a break!
The county Antrim based painter has many friends here. His earthy style and detail are unique, good to see him again.
Plus: Home baked cakes, locally roasted coffee, many special guests and surprises, the mill open and our looms weaving, many new friends waiting for you to get to know them!
See you on September 12th!
Note: Flax Mill Open Day is a private event and the owner reserves the right to refuse admission at any time. For all details contact us: flaxmill@gmx.net or 02877742655.

Beyond the shadows, an invitation
Dear Friend,
I use this opportunity to invite you to the 27th Open Day and Yard-Fest at Derrylane Flax – Mill on Saturday, September 12th 2020!
The long and dark shadows of this year didn't avoid Flax Mill totally though we tried our best to keep as much "normality" as we could, worked right through, kept our doors open for those who wanted to come and see us.
Now as the shadows are fading, I think it's more than timely to look beyond them!
We have worked very hard and pulled together an Open Day which should be the most memorable day of this year!
I think, I can safely say that the very best crafters from these shores will be present to display the finest range of locally made products you will ever find in one place on one day!
We have 12 (!!) live demonstrations in textile – and other crafts all day, all given by masters.
Of course, our looms will be weaving and I and my team (this year my daughters Tamara and Fiona) will be in the mill to answer all your questions.
It's a great honour to welcome back my colleague and friend Emma Poser who will take one of the driving seats at our looms. Emma came all the way from Berlin to be trained here and is returning with her mother this time. She will be joined by several local and one English weaver – the mix of demonstrating weavers is going to be as international as our audience – people from a dozen countries have booked their place at this early stage.
As every year, a huge (and growing) number of designers, weavers, spinners and other textile – workers will be present. There is no gathering comparable on this island.
Christine Casey, master spinner and owner of "Kiri Cottage Crafts" has agreed to show yarn – dyeing with natural dyes, a craft many people have been asking about in recent times. The member of the "Ulster Guild of Spinners Weavers and Dyers" will be joined by Sarah Foster – Jarden who is going to show linen – spinning.
With great pleasure I can reveal that the secretary of the Guild, Lorna Shannon, will come back. She will join our demonstrating wool – and linen spinners, making it 4 wheels working in tandem this year (see Open Day Programme).
Also:
*Ireland's only bronze – caster, Charlie Mallon!
*Basket weaver Louise Mc Lean!
*Feltier Franziska Castro, the furthest ever travelled stall holder (from Berlin)!
*Ireland's youngest blacksmith, Samuel Logan live!
*Iconic wood-turner Jackie Arrell!
This list could be (and is in the programmes) continued.
Our "catering brigade" will look after your well – being. Locally roasted coffee, home – baked cakes and other treats will be available all day and for those (wise people) who stay for the evening a buffet and dinner beyond compare is going to be crafted by our master chefs. Of course, we offer vegetarian and vegan options.
Please ask for detailed programmes for both Open Day and Yard – Fest, also our flyer for the Fashion Show. They can be had hard-copy or via mail.
Any more details, booking, directions – just give us a ring ( 004428 777 42655 ) or send a mail ( flaxmill@gmx.net )!
I would love to welcome you here at the Flax – Mill on Saturday the 12th of September. The 27th Open Day and Yard – Fest will be an unforgettable experience – that's my promise!
Love over Gold
Marion Baur
Owner of Flax – Mill – Textiles

If you want to have a taste of the fun in store for you this year, take a look at our archived Open Day 2019 page. A detailed programme of the days events is coming soon so check regularly for updates here and amongst the relevant news postings, a copy of which are listed below. 
——— o0o ———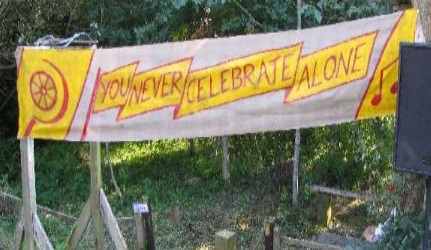 Friends, valued customers, fellow crafters and textile-workers, The "re-building" of Flax Mill back to working order is half-way finished, the...
Read More