Dear friends, valued customers, dear fellow crafters and textile-workers!
Our first "major" communication since the 26th Open Day and Yard Fest is going out to the "full list" and in several languages, please pass it to people who you think should have it. Don't hesitate to use it on your own internet – page or presence in other media.
1.) The Open Day and Yard Fest – a short summary, thanks and an outlook
No doubt, this year's Open Day saw the largest number of visitors ever, the atmosphere was extraordinary – the gathering seems to draw new fascinating crafters, artists and interested people every year. Over 400 (!!) e-mails of thanks and praise speak for themselves, so do the lovely letters and cards.
At this point I can't but put things right:
Our thanks have to go to you, the visitors, stall-holding and demonstrating crafters, our orators, the best internationalist crowd of helpers in the world!
Where else would you find musicians, singers and poets like those who made the 26th Yard Fest? Thanks!
I am not going to pick out names – the spirit of working together in a great collective was the driving engine for:
-1.600 + cups of coffee and tea – a buffet for the evening guests which was beyond a shadow of doubt the most spectacular one ever!
– a great bar during the concert, serving 5 (!!) different types of German beer to mention but one highlight – well prepared and run talks (packed as usual) – a concert to remember for long – the totally overcrowded but equally fascinating fashion show……this list could be continued.Motivated by this experience (tired though) our group of "hard – core – helpers" sat down on Sunday and (after detailed discussions) announced:
The 27th Open Day and Yard Fest are going to happen! The date is September 12th, 2020.
Let's go for it – you never celebrate alone!
2.) News from inside the mill.
*Silk screen printed handkerchiefs!
The gap between our plain and the hand-embroidered hankies is closed. One of our favourite textile-printers, Charlotte Krone (Market Harborough) has put a long-standing plan to practise, she printed a limited edition of white linen handkerchiefs with my design of the flax flower in blue. They are on the shelf now, needless to say we used our "finest" in more sense than one. Don't forget: The emphasis is on LIMITED edition!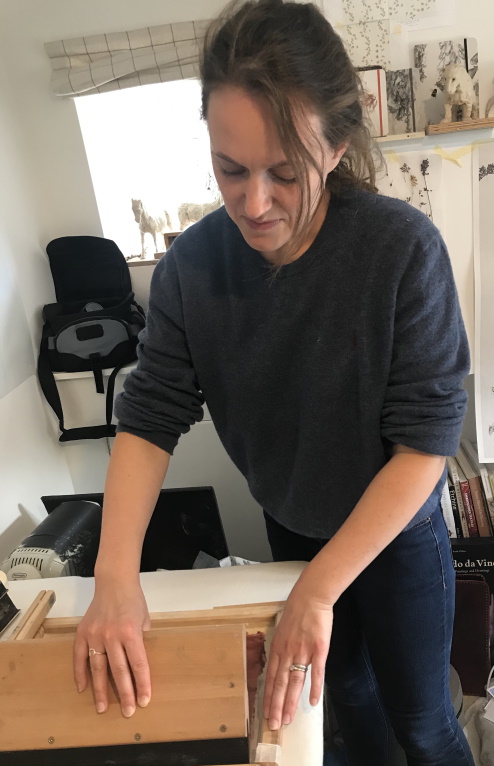 *More limited still and of great historical value since a few days: Hand painted hand-woven Irish linen tea towels with the "Save the Shipyard" motive – pictures of it went around the world after I presented the workers in Belfast with one – on them. They make for a great memory of the victory by the workers of Harland and Wolff. The towel is our handwoven one, the great artist Fiona Mc Nally (Cookstown) did the painting.
*Straight off the looms: Old favourites and new spectacular fabrics! We are re-producing "Flax Field". The very successful hand woven linen with 9(!!) colours in the weft (coincidentally but nicely one of Wm Clark's "earthed" fabrics has the same name – they go well together) is getting a slightly different warp. Here's the story:
When Hermann helped friends near Cookstown with their flax – pulling, he looked at the cloth after returning home. He thought it could do with a little more "faded blue" in it. Tribute to the re-emerged yarn – dyeing on these shores we could come up with Irish spun (Irish Flax) warp – yarn "bang on the tone" he had seen in Charlie Mallon's field. As the "old Flax Field" the new cloth is available in a limited edition of 60 metres only and it won't be here for too long!
On the "natural front", all our customer's favourites are back in the shelf: "Derrylane", "Roe 2" and the like. Jewel in the crown amongst the "brown" fabrics is certainly my new hand-woven "black over natural" which we got beetle-finished by Clarks. Those of you who were at the Fashion Show will know immediately what we are talking about.
*Last but not least, after the good success of this year's Fashion Show (some of the exhibited creations are away to Germany to be shown as we write this), I incorporated a few new designs into our small range: Some blouses, one type of waist coat and a couple of newly designed trousers. For those who had to wait for their orders (our button – whole – machine gave some trouble): All is back on track, next week will see the last of the ordered garments going out.
3.) What's next?
Besides hopefully a visit of yours very soon we would like to draw your attention to two happenings: Winter Solstice Celebration at Flax Mill on Sat. 21. December! If you want to come, let us know very soon, we won't have a huge crowd here but an "atmospheric one".
Across two oceans: "Maikaefer flieg" a musical collage by Isabel Neuenfeldt and Antonjo Effenberger.
The very highly acclaimed piece about children under Nazi – fascism is being shown several times from now on. For details contact Isabel: IsaNeu@gmx.net
Love over Gold
Marion