This page is now an archive of the build-up and the day itself but don't fret if you've missed the fun – Saturday, September 12th 2020  is the date for the 27th Flax Mill Open  Day and Yard – Fest!
After adding another wonderful Open Day to our collection of happy memories, we would like to share some of the positive feedback we've received with all those who made it happen, either through their generous efforts or by being there.  The thoughts of attendee Geraldine Wilkins sums up the kind words we have received:
Hi Marion and Herman
A HUGE thank you for Yardfest 2019.  I had a wonderful day.  Please feel free to use the text below in any future publicity for Flax Mill.
We arrived at Yardfest  at 11.00 and dragged ourselves away unwillingly at 6.00, having had a day full of  delights for the eye, the ear and the hand as we took part in flax spinning, talked to weavers at the loom, listened to poetry ancient and contemporary that celebrated the blue flax flower and admired stylish clothes fashioned from linen on a bark strewn 'catwalk'.    Made welcome by Herman with his boundless energy and passion for all things flax-related we met old friends and made new ones.  A tireless kitchen  team provided excellent coffee and cakes to fuel proceedings.  Community in action; a local linen renaissance in the making.
Thank you Marion and Herman.
Our reminiscences would not be complete without a few images to stir the memory. Thanks to  Sven – Olaf Roessler for the great photos.
Welcome to the Open Day 2019 info page! If you want to have a taste of the fun in store for you this year, take a look at our archived Open Day 2018 page. The big day will take place on Saturday 14th of September – download our flyer and programmes, read the supplement and check out the selected news items below to find out about our eclectic programme of arts, crafts, music and more…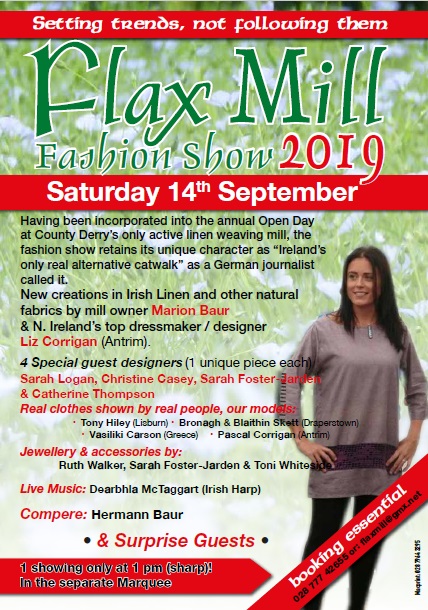 Find full details of the fun-packed day of events as well as lots of insights into the designers, crafters, poets, musicians and speakers who will make this day so special  in the Full Open Day Programme 2019  and the  Evening Concert Programme 2019  (click to download in pdf format).
Supplement to the Open Day Programme 2019
In Praise of the Wooden Block
Linen is by far the oldest fabric man has been making – subsequently techniques to finish it, improve its softness and beauty of appearance go back a long time – thousands of years to be correct. To make the woven cloth denser and soft, early textile-workers discovered river water as a helper. The web was laid over stones in a stream and beaten with sticks or blocks of wood.
From the early 1700s this pounding could be performed by a simple but very efficient machine – the "beetling engine" marked the beginning of the industrial revolution.
Blocks of beech wood are arranged in slings above a web of linen which has been rolled onto a large wooden beam (mostly made of beech as well, sometimes maple was used). They are then knocked out of their position by another roller which makes them drop onto the linen, lifts them again and so forth…
Noisy, extremely time – consuming (the procedure lasts up to 36 hours) and – due to the weight of the blocks – almost rocking the operating shed, the first industrial technique of finishing linen soon became a feature in the manufacturing of "the aristocrat of textiles".
Bruce Clark and Richard Jolly produced a documentary film called "Back to the Future" in 2014 which gives an exceptional inside-look into this archaic but unsurpassed – by – quality – cloth – finishing.
Almost 300 years after its invention beetling is still being done and we are singing its praises for good reasons:
– It is a purely mechanical finish; no softeners or other chemicals are needed.
– Compared to "modern" finishing techniques, the energy – input is not big.
– The shine (often called "the polish") is unique, so is the dense structure of the beetled fabric.
Wm Clark & sons are now the only commercial beetle – finishers on the British Isles, to our knowledge even in Europe. The mill stands just 16 miles from Flax – Mill, where we weave. We can safely call the beetling they do for us "carbon footprint free".
Marion Baur's weaving is often praised (the world over) for beauty of design and very high quality. A finish like beetling lends itself to set off our linen, give it "the final touch".

During the Flax – Mill – Open – Day 2019 and indeed during the trend-setting Fashion Show as part of it, beetled linen is going to play a special role:
4 garments shown on the cat – walk will be made from it.
We will have a special stall in the mill showing and selling beetle-finished linen.
For the first time ever makers and designers will be able to purchase hand-woven linen (design and all weaving done by Marion Baur) – in limited quantities – which has been beetled.
We are expecting a number of tailors and dress-makers who work with the cloth (Liz Corrigan and Maria Cardenas being but two of them ….) well able to share their experience with the "pounded fabric" with other visitors.
Finally, the man who keeps beetling going in Upperlands, Sam Anderson, should be there to answer all the questions.
In 2019 we praise the power of the wooden blocks not for nostalgia but for very up-to-date reasons:
The result is healthy, caring for the environment, strong, dense and beautiful, a pure plant fabric, no animal –tested or animal-products used in the whole process – in short: It is "Irish Linen at its highest point"!
This supplement on its own should interest you but it makes even more sense in connection with our full programme!
Should you not have it, drop us a line and we will forward it to you. Hard copy –versions are available.
Hermann Glaser-Baur
A pdf version of Hermann's essay can be downloaded here.
——— o0o ———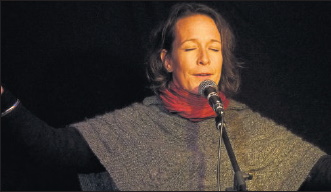 Many thanks to all at The Derry Post for giving us permission to share their article on how Berlin's favourite...
Read More