This page is now an archive of the build-up and the day itself.
Find our ever-expanding gallery from "The Second Finale" below – we'll keep adding to it as the images roll in. Thanks to Hester McCunn, Rosemary Henderson, Sven-Olaf Rößler, Jen and Bryan Firth for the great photos we've received so far. We hope it reminds you that "You never celebrate alone !"
The Second Finale
After an overwhelming number of requests for "The Second Finale" are pleased to announce that The Flax Mill will host The 28th Yard-Fest and Open Day on Saturday, 11th of September, 2021.
Make sure to bookmark this page and return regularly for all the latest updates on the day's events including guest lectures, craft stalls, fashion show, music and much more!
Use these links to jump to the following sections:
Invitation
Open Day Programme
Fashion Show
Evening Event
Open Day News

The Invitation
Dear friend,
I use this opportunity to invite you to the 28th Yard – Fest and Open Day at Derrylane Flax – Mill on Saturday, September 11th 2021.
We have called this one "the second finale". After last year's very successful event we thought "that was it".
We had declared the 2020 Fest the last one quite a while ago.
The reasons are simple: We are now almost 30 years older than when we started this and the weather in this part of the world is getting more unreliable by the year – the Open Day is a real out – door event, as you know.
But: 2020 wasn't over when people – especially crafters and artists – from all over the world (and I mean that) were starting to "complain":
"If you can run an event like this one in a year like 2020 you should never be allowed to stop…" and statements like that got here by the dozens.
We spoke to many people since and understand the human aspect of their thoughts: Over a year artists had very little gigs, there were too little outlets for good crafts and all that.
To cut the long story short:
We "gave in" and here we go for the "second finale" which we would be delighted to welcome you to.
I dare say the programmes for both Open Day and evening event are the best we have ever been able to come up with.
You will find programmes and flyer for our annual Fashion Show below. I think they are worth reading in detail.
All these documents are also available in hard-copy version, we can send them on request.
Here are just a few bullet points from the programmes:
– Over 20 visiting crafters with beautiful stalls, many of them demonstrating their unique skills (blacksmith, basket weaver, spinning, dyeing, felting and many others, see programme).
– Our looms running all day with expert weavers in the driving seats, such as Emma Poser (Berlin), Megan Gilfert (Ohio)…
– The annual Fashion Show with mine and Liz Corrigan's new creations and several special – guest – designers (for all details see flyer). Our models will only show once and the cat walk is introduced by Helen Keys and Duncan Neil.
– FROM FLAX TO LINEN, the complete process while you watch (see programme).
For the first time in over 4 decades locally grown flax scutched, hackled, spun and woven!
– Healthy people on a sick planet – is that possible?
Talk by a real expert: Heidi Steffen who owns and runs Northern Irelands longest established and most profiled health shop, the Iona Shop in Holywood (see programme).
– The most spectacular evening – concert ever with:
JOE Mc GONIGLE
MANDY BINGHAM
SECOND CHANCE
Plus special surprise – guests!! See programme for all details.
– Dinner and 13 m long buffet created by our catering brigade from Berlin!
– People from many corners of the planet – no strangers here, just friends you have yet to meet!
Please treat this as your personal invitation and don't forget:
The "Second Finale" is the final Open Day and Yard – Fest for sure. It is true that not long after the event – definitely before the end of this year – we are going to give Flax Mill into capable and much younger hands. We won't retire completely but intend to scale our very big work – load down a bit.
I would love to welcome you here for a final and hopefully unforgettable day/evening on September 11th!
Love over Gold
Marion Baur
owner of Flax Mill Textiles

Doing no Harm to the Planet
Open Day Programme
28th Flax Mill Open Day 2021 on September 11th from 10 am to 6pm
The Cream of Crafters – unique Demonstrations
– One of the NEW visiting crafters who creates a lot of buzz in the fore-run to the Open Day is Cherrie Mc Ilwaine.

As soon as word about the retired BBC presenter but still active textile – crafter taking a stall got out, we had to answer questions like "…is that the Cherrie Mc Ilwaine whose programs I listened to for many years? .."
The very one, her products are high quality, hand-made textiles, as "top of the range" as her media – work used to be. She is coming in company of several "good needle-girls" as she calls her friends and we predict, she'll be very busy.
– Certainly not new at the Open Day is Welsh – born glass-artist Ruth Walker.

Her kiln – fused creations come in colours sometimes compared to those in the "Book of Kells". Ruth will take her always beautifully decorated stall "under the trees" where many of our guests will be looking for her.
As in previous years she is manufacturing a special range of jewellery for our Fashion Show (see flyer).
– Another NEW stall – holder this year is Susan F. Hunter.

Her pottery is of the best quality you will find anywhere – practical and very artistic. Susan, who is involved in the Makers House (Designery) in Bushmills packages some of her amazing products in bags she makes from linen woven here at Flax Mill. A great way of putting "doing no harm to the planet" into litter – saving practise.
– Probably the longest visiting crafter at our Open Day is Coleraine-based Louise Mc Lean.

The most spectacular basket-weaver on this island is coming back to offer her products and demonstrate her skills. Her husband who is involved in the "Atlantic Craft" label they own is set to bring some of the unique furniture he makes from wood sourced on their own land.
– NEW and creating a lot of interest already is painter Regina Mc Sorley.

She is based in Draperstown and operates with Arty Facts, a group of top-painters, some of them might show works at Regina's stall. You'll be stunned by their creations!
– Gloria and Will Kennedy ("Animal Crafts") are anything but new to Flax – Mill.

Their great range of products – bespoke walking sticks, candle-holders and other amazing pieces made from horn – have turned our visitor's heads many times. One of their walking sticks will be shown in this year's Fashion Show (see flyer). Gloria and Will are animal – lovers wouldn't dream of killing or exploiting an animal, they use pieces of horn which the animal naturally sheds.
Great to have these two top-crafters back.
– 5 spinning wheels working in tandem – where else would you get it?

Our visitors will see wool- and linen-spinning, involved are this year:
Sarah Foster-Jarden, Christine Casey, our commission – spinner, Tiernan Stuart, Geraldine Wilkins and Lorna Shannon, secretary of the "Ulster Guild of Spinners, Weavers and Dyers". Her return to the Open Day is particularly honouring for us. Needless to tell you that most of these distinguished master-crafters will run stalls with their top products.
Some of them are also involved in demonstrating dyeing, hackling flax and possibly felting.
– FROM FLAX TO LINEN is definitely the highlight of this year's textile-workers gathering.

The complete process of the making of linen from the flax-fibre while you watch. We are not aware that locally grown flax has been processed right to the finished piece in Ireland for well over 4 decades.
This project will be filmed.
– Our weaving looms are operating all day, some amazing weavers in the driving seats.

One of them is NEW: Megan Gilfert. She origins from Ohio/USA, joined us as a trainee-weaver on a part time basis. Since Mid-July she is full time with Flax – Mill.
– Mallon is returning! Charlie Mallon and Hellen Keys are back and again set to operate one of the most interesting stalls.

They grow the flax we use for the "Flax to Linen" demonstration. They will also have one of the best natural honeys you ever tasted and several poison-free grown products from their farm in Co. Tyrone. Amongst them are world-class potatoes – we will be using them in our catering. Add to that: Mallon's bees wax polish which is enriched with linseed and the "main" creations: From his bronze – casting – foundry, Charlie will bring unique castings, amongst them napkin rings (!!).

If you miss Mallon's stall you miss the Open Day!
– While we are at metal: Ireland's youngest full-time blacksmith Samuel Logan will be returning to make sparks fly!

He also offers unique iron products for sale. If he runs out of them, well, he'll just make new ones while you watch.
Great to have Sam back for the third time!
– Jill Gurney is no stranger to the Flax Mill.

The owner of "Linen Lane crafts" uses quite a bit of cloth we make here. She is famous for her lampshades which she exports world-wide. Another unique product she tells us will be at her stall this year: Traditional Irish blessings which she beautifully prints on German arts – paper. Like all other crafters at our Open Day, Jill manufactures all locally: No carbon-footprint, no harm to the planet!
– Frank Cammock is the only non-manufacturing stall-holder.

The selection of books he offers is one of the most unusual and fascinating one we ever came across. Our audience last year thought so as well – his return from Belfast will be well-liked. Frank specialises in labour-history, women's struggles and international history. Great to see him back.
– Heidi talks!

Heidi Steffen origins from Switzerland and has been living in N. Ireland for many years. She owns and runs the most profiled and probably the longest established health shop on these shores, the IONA SHOP in Holywood.
4 decades of supplying healthy, poison-free and carbon-footprint-free products, that's 4 decades of doing no harm to the planet!

The subject she'll deal with is:

Healthy people on a sick planet – is that possible?
We are delighted to welcome this real expert – the time for a talk on the subject is more than right, we think.
Mill Cottage at 2.30 pm, straight after the Fashion Show (see flyer), you must book for this talk, space is limited and interest huge!
– Two excellent textile-crafters are returning after their good debut last year: Hester Mc Cunn and Rosemary Henderson!

Cushions and other practical textiles made from Irish Linen are their game. Have you ever seen a cushion which can change its colour to suit different rooms? The amazing pair will show you!
– Last but certainly not least: Liz Corrigan, master tailor and involved in our Fashion Show (see flyer) will run a stall this year where she features some of her own accessories such as linen ties.
Add to that:

Home baked cakes, excellent coffee and tea, an exhibition of classic bicycles, vintage cars, Ireland's largest gathering of textile – workers, guests from many countries – you'll go a long way to find anything like the Flax – Mill – Open – Day!
Note: Open Day is a private event and the owner reserves the right to refuse admission at any time. There is no entry – fee.
For all details, bookings, directions. Ring us:
02877742655
or send us a mail:
flaxmill@gmx.net

Setting Trends, not following them
Flax Mill Fashion Show
Saturday, 11th September 2021
* All vegan Catwalk!
* Healthy clothes for a healthy future -all locally made!
* New creations in Irish Linen and other natural (plant – based) fibers by Marion Baur and several special guest designers.
* Jewelry by Ruth Walker.
* Accessories by Will Kennedy & Tiernan Stuart
* Real clothes shown by real people, our models:

Jen Firth (Aghadowey)
Fiona Baur (Limavady)
Tony Hiley (Lisburn)
+ one special guest

* Comperes:

Helen Keys (Moneymore)
Duncan Neil (Upperlands, creative director of
Wm. Clark & sons)

* Live Music: Dearbhla Mc Taggart (Irish Harp)
1 showing only at 1pm (sharp)
Booking absolutely essential (sorry, no exceptions)!
For booking and all other details give us a ring: 0044 (0)28 7774265
Or send us a mail: flaxmill@gmx.net
Note: As the whole Open Day, Flax Mill Fashion Show is a private event and the owner reserves the right to refuse admission at all times. Photographers and film-makers are welcome but must book their place!

Evening Concert Programme
Yard – Fest no. 28 on Sept. 11th 2021
"The Second Finale"
– Spectacular News first:

Mandy is back!

Mandy Bingham first stepped onto the "stage under the oak trees" in 2017 and left everyone breathless! The singer/songwriter from Holywood has no comparison on these shores. Her voice captures you, you are "glued to her lips", you just don't want her to stop.
As 2017 Mandy Bingham will be accompanied by her husband Graham (acoustic guitar). His perfect and earthy playing is "tailor-made" for her singing.

Graham and Mandy

We've had many female singers at the Yard – Fest, none of them put a spell on our audience like Mandy – we are honoured to have her back at the final Fest, needless to say, she'll bring many new songs with her.
– Now, look at this one:

His recently released song "Keep the fight in your Hearts" which he wrote in solidarity with the victims of the "Mica Crisis" in Donegal and beyond went "viral" – thousands of positive responses on the internet. The "powers to be" didn't want to know, the great piece of music wasn't put on the playlists, "too political".
This censorship made the song more popular. You know who we are talking about:

Joe Mc Gonigle is back!

The Donegal – based singer and songwriter will make his second appearance at a Yard – Fest. Getting close to a new album – release, Joe is going to perform only songs of his own this time.

Joe McGonigle

He just told us that "Keep the Fight in your Hearts" will have its premier on stage on the night – many people have been asking about that.
Everybody at the Flax – Mill is very excited about Joe's return.
– Hold your breath for this one:

For the second finale we are honoured to introduce

Second Chance

to our wonderful audience. The 3 piece band with singing sensation John Burns the front man are second to none when it comes to Rock'n Roll (real stuff), Rockabilly, a bit of blues …
They cancelled a gig in Mallorca, knowing that if they wanted to get a first chance at a Yard – Fest, it would have to be this one, after the "second finale" they won't get a second chance!!

Second Chance
Confused? Just make sure you grab the chance to be there- "second chance" alone will be worth your while doing so, that's our promise!
-The Gig-
Joe Mc Gonigle
Mandy Bingham
Second Chance
– Plus: Bernard S. Davis (poetry).

The poet and photographer is returning from Birmingham – certainly one or two pieces of his unique performance poetry in the luggage. Bernard still travels by bicycle – doing no harm to the planet in everyday life!
– Plus: 3 very special guests who we can't name before the night!
– Spectacular News last: Our original "Berlin – Catering – Brigade" is returning – a sure guarantee for the best dinner and buffet you ever tasted!
After the lights go out on stage: Ireland's best session in the gas – lit barn!
Music starts at 8 pm sharp, dinner and buffet from 6 pm!
As always: The evening – part of the event is by invitation only!
Get in touch for details, booking etc. now, the interest is very big!

——— o0o ———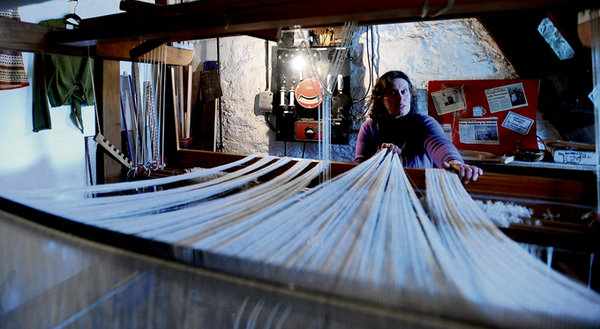 Dear friends, valued customers, colleagues in the media, dear linen - lovers! This is our last communication to "the world"...
Read More