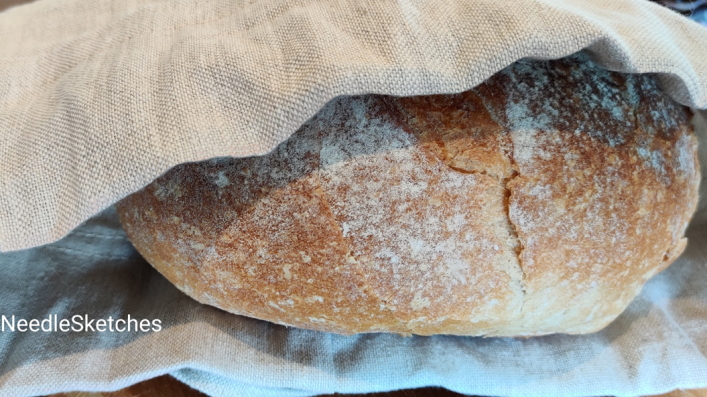 We are pleased to introduce a guest post from fellow crafters at Needlesketches who have found an innovative use for our ever-versatile Linen! Their Eco-Friendly Bread Bag made using Irish Linen is perfect to store freshly baked market or homemade breads.
When creating a bread bag, you require a high-quality fabric to make a high-quality product. For a bread bag, linen is the perfect fabric for the job. Linen's antibacterial properties enable the fabric to behave as an ideal storage bag for freshly baked breads.
Linen can withstand reasonably high temperatures when washed and is a hygienic product which can be re-used. Linen is an Eco-Friendly fabric, hard wearing, can be laundered numerous times and can last for years.
This Eco-Friendly Linen Bread Bag has closed seams on the insides of the bag. It was design with hygiene in mind and to prevent crumbs catching in the seams.
The bag is designed such that the linen folds in on itself when the bag is closed using the double draw string closure; this closes the bag neatly and gives a seal that ensures that the bread is enclosed in linen.
Linen is the perfect fabric for bread bag!
"Weaving is a process used to create fabric by interlacing threads"
Here at NeedleSketches we consider this bag to be both eco-friendly and economical.
I like the idea of weaving threads together to produce a quality product which by its very nature is good for the earth. A chat with a wonderful food producer led me to thinking about the value of a simple linen bread bag – small changes can lead to amazing results.
Linen is biodegradable, whilst it is hard wearing it will also degrade and will naturally fall back into the earth. Replacing the storage of bread in plastic bags by using these linen bags works well for the environment and for your pocket. Linen helps to keep bread fresh for longer- saving money and reducing waste.
I also wanted to use natural locally produced products. There are a small number of Mills here in Ireland and I was delighted to speak with two amazing Irish Linen Weavers – Hermann and Marion of Flax Mill Textiles. They gave me a marvellous choice of linen, all woven here in Ireland.
With such a beautiful material, I set about designing the Eco-Friendly Linen Bread Bag, perfecting seams, closure, and size. Another wonderful chat with Michele of MarketStreet.ie led to the opportunity of selling online with MarketStreet.ie in March.
Following pleasant conversations with businesses from the Flax Mills in Dungiven to MarketStreet.ie in Dublin, this simple Eco-Friendly Bread Bag was designed and handmade in East Cork by NeedleSketches.
The Eco-Friendly Bread Bag is now available to purchase online at NeedleSketches Store on MarketStreet.ie – small changes weaving a positive impact on our world.
About Needlesketches
NeedleSketches design and make fabric bags, purses and more. Our attention to detail, coupled with the beautiful linen, cotton, cork oak and tweed fabrics used to make these handmade products ensure that you are always impressed by the quality of the items you receive.
Please visit the online shop or contact us through social media: